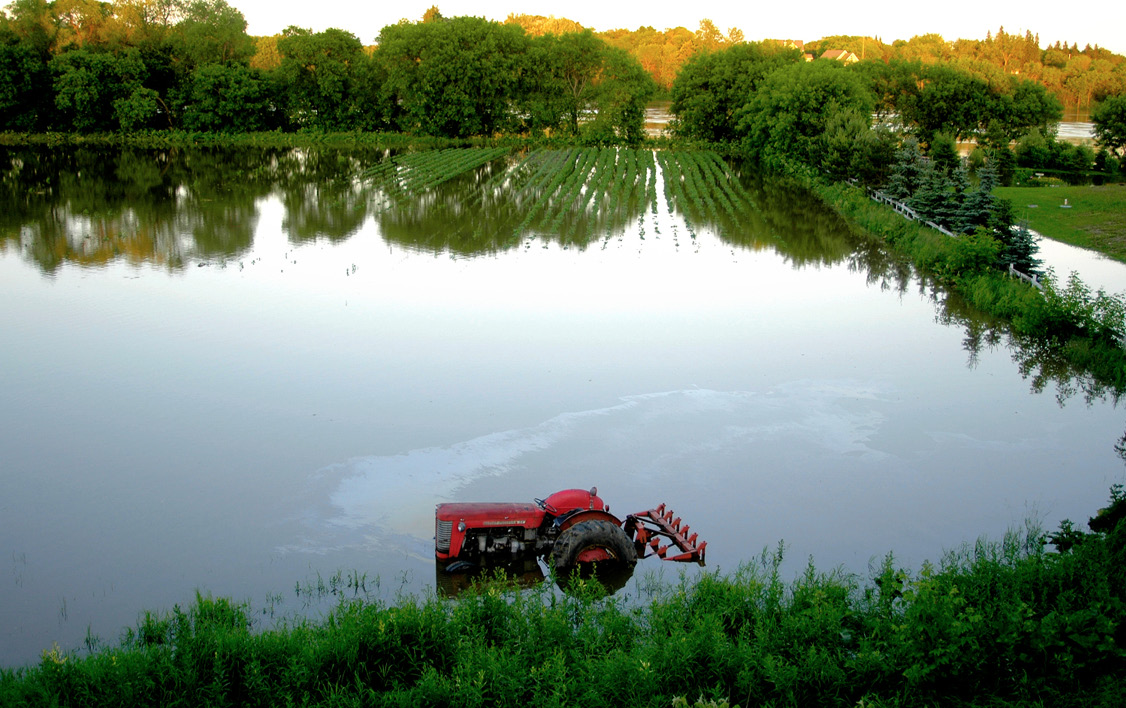 10. Climate Justice: What's Fair?
Over the last two decades, a "climate justice" movement has emerged around the world. Students who are sensitive to issues of fairness may be especially attracted to discussions of climate justice. That movement is particularly attuned to arguments that addressing climate change adequately requires systems change rather than appeals to individual lifestyle changes.
The Mary Robinson Foundation—Climate Justice, founded by the former president of Ireland and United Nations High Commissioner for Human Rights, enunciates the following principle:
The benefits and burdens associated with climate change and its resolution must be fairly allocated. This involves acceptance of common but differentiated responsibilities and respective capabilities in relation to reduction of greenhouse gas emissions. Those who have most responsibility for greenhouse gas emissions and most capacity to act must cut emissions first.
In addition, those who have benefited and still benefit from emissions in the form of ongoing economic development and increased wealth, mainly in industrialized countries, have an ethical obligation to share benefits with those who are today suffering from the effects of these emissions, mainly vulnerable people in developing countries. People in low income countries must have access to opportunities to adapt to the impacts of climate change and embrace low carbon development to avoid future environmental damage.1
Author Brian Tokar writes that the earliest published reference to climate justice was a 1999 article in CorpWatch, "Greenhouse Gangsters vs. Climate Justice."2 The article, which focused on energy and climate, particularly the role of the biggest global oil and coal companies, concluded that "The ability of the individual consumer to influence climate is dwarfed by the impact of giant corporations which explore for, extract, transport, refine, and distribute oil which is the primary source of carbon dioxide emissions—by far the major greenhouse gas."3 A similar inquiry today directed at food systems and climate would likely pay attention especially to the impact of industrial agriculture and the influence of agribusiness on the policies of governments and international agencies.
A 2013 Lloyd's of London report4 described four dimensions of food security that climate change has the potential to affect: (1) Availability. Increases in cropland are likely at higher latitudes, while declines are likely at lower latitudes (where the majority of the world's poorest people live); (2) Stability. More variable weather conditions and more frequent extreme events can reduce food supply stability and security; (3) Access. Climate change may lead to supply shortages and hence higher food prices, as well as having an impact on people whose incomes depend on the food system; (4) A vicious circle. Infectious diseases (due to inadequate water, sanitation, or storage) can lead to or compound hunger, which makes the infected population even more susceptible to disease, which leads to an increase in poverty and a further inability to purchase food.
These impacts are experienced especially in less-developed countries and regions. The UN Food and Agricultural Organization reports that food can account for at least 50 percent and up to 70 to 80 percent of the budgets of the poor in developing countries.5 Since 2007, a series of spikes in food prices have resulted from reduced harvests due to drought, flooding, and other phenomena linked to climate change. In March 2008, wheat prices were up 130 percent, soy 87 percent, rice 74 percent, and corn 31 percent compared with just a year earlier.6 Before that increase, 800 million people were hungry. Following the price spike, this number increased to a little over one billion people.7 Other spikes have followed, and more are predicted.
Eric Toensmeier, author of The Carbon Farming Solution, writes, "One reason climate change impacts the Global South more is physics—climate change kicks in harder in the tropics. But when infrastructure isn't strong and people are already living close to the edge around food security, it's not physics, it's socioeconomic issues that put people in a position to be wrecked by climate events."8
At the same time, Toensmeier notes that "many of the agroforestry techniques that have the highest sequestration rates are largely confined to the tropics, at least at present, and most of the best perennial crops available today are native to, or grow best in, the tropics. The head start the tropics have on carbon farming provides an excellent opportunity for wealthy countries to repay climate debt by bankrolling mitigation, adaptation, and development projects in the Global South and to take lessons from the endeavors already under way there."9
In 2009, richer countries promised to provide US$100 billion a year by 2020 to assist the least-developed countries to adapt to climate change. That promise was reaffirmed in 2015 at the Conference of the Parties (COP 21) in Paris.10 In October 2016 the donor countries, led by Australia and the United Kingdom, released a "roadmap" showing how they would achieve that goal.11 Oxfam in the UK called the roadmap "a step forward," but "nowhere near enough to ensure the needs of the most vulnerable are met."12
Systems Perspective: In addition to the question of funding, the issues require a systemic response. The Commission on Sustainable Agriculture and Climate Change has written, "The multiple emergent challenges—food insecurity and undernutrition, climate change, increasing competition for energy and water, degradation of land and biodiversity—are connected in complex ways and demand an integrated management approach…. Existing and future investments in information and knowledge must be structured to identify limits, inform trade-offs, and deliver practical guidance for a sustainable future, not simply to maximize single components of the food system."13
It is also critical that "solutions" to climate justice issues do not further jeopardize the most vulnerable contributors to the food system. Some organizations have argued, for instance, that the term "climate-smart agriculture" is vague and may sometimes be a cover for agriculture practices that are good for neither the climate nor most farmers.14
In particular, there are fears that strategies such as soil-carbon offset markets may create incentives for "soil grabbing" by industrial interests more concerned with profit than in growing food or sustaining communities in Africa, Brazil, and elsewhere. The offset markets award carbon credits to landowners whose cropland sequesters carbon. The credits can then be sold to industrial polluters who want to offset their emissions. "Across Africa," wrote author and journalist Fred Pearce in 2011, "governments are already leasing wide areas of land traditionally used by smallholder farmers to foreign companies for industrial agriculture or for planting trees as carbon sinks in order to gain carbon credits. The fear is that the process will accelerate if the soil itself becomes a carbon commodity."15
Adopting agricultural practices that will be better for the climate in the long run may lead during a period of transition to reduced income for smallholder farmers and farmworkers, and these people need to be compensated or otherwise protected if they are to change their practices. Further, "climate equity" should involve "planning that values sense of place, cultural practices, and traditional community knowledge of the local land and resources, especially for future land use decisions and hazard mitigation," according to a 2016 report from the Council on Climate Preparedness and Resilience established by the Obama administration.16
Even while recognizing that climate change is a global phenomenon, some students may have difficulty focusing on issues tens of thousands of miles away. Climate justice is an issue that can also be close to home. Ryan Cho, a secondary school teacher from British Columbia, writes, "Too often we think of the negative effects of climate change as something that happens to poor people 'over there' in the Global South whilst all of us lucky people in North America are insulated from its other impacts and other true inequities of the world. There is some truth to this narrative, but overall, this story of the privileged West and downtrodden South blinds us to injustices and opportunities for change in our own backyard."17
In collaboration with the Canadian Centre for Policy Alternatives and the BC Teachers' Federation, Cho helped develop an eight-module climate justice resource for classroom use in grades eight to twelve. It is available at no cost at www.teachclimatejustice.ca. It is oriented toward British Columbia, but teachers are encouraged to adapt it for their own settings.