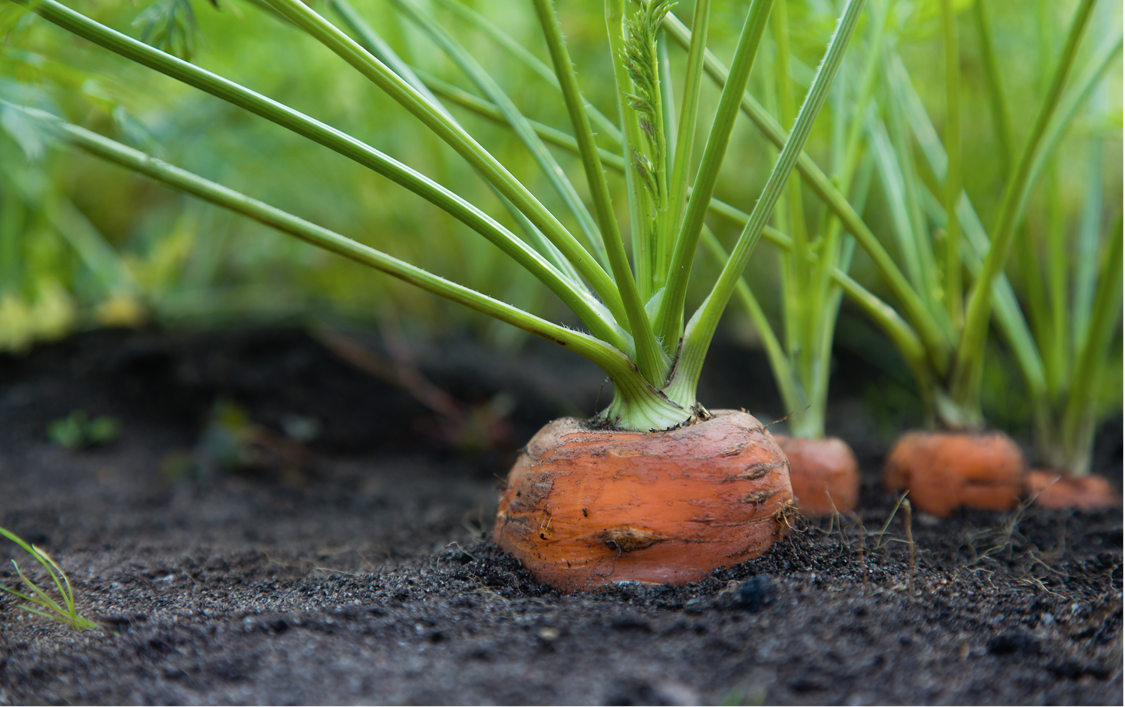 13. Can Public Policy Help Build Healthy Soil?
For students wanting to know what part public policy might play in links between food systems and climate change, recent developments in California offer some ideas. With the change of administrations in Washington, the future of federal policy regarding climate change is murky at best. There is space for leadership from states willing to step forward, and California seems determined to do that.
Agriculture is hugely important in the state. Its 76,000 farms and ranches lead the US in cash receipts—nearly $47 billion in income paid to farmers and ranchers in 2015 1 and a "multiplier effect" whereby each dollar spent directly on agriculture adds an estimated $2 to $3 to the state's economy.2 The state produces over 400 food and fiber products—almost every crop found in the US. And California agriculture is particularly susceptible to the predicted impacts of climate change, especially drought interspersed with occasional flooding (agriculture accounts for 75 percent of the state's water use), more frequent and prolonged heat waves, reduced winter chill hours, animal diseases, pressure from weeds and pests, and higher intensity and frequency of storms.3
Many farmers and ranchers recognize that it is in their interest to help mitigate climate change impacts. "Farmers have a lot at stake in a changing climate," says Tom Willey at T&D Willey Farms in Madera. "We experience the impacts of climate change on our farm every day." Adds Greg Rawlings of Jacobs Farm/Del Cabo Inc. in Pescadero, "Our farm's livelihood and California's ability to continue to be a leader in world food production is threatened if we don't act now on climate change."4
Overcoming Obstacles
Farmers are aware of research that points to agricultural practices that can support greater sequestration of carbon in soils. Several obstacles stand in the way of implementing new practices, though. Location-specific research is needed to measure the suitability of practices which are successful elsewhere. Practices are not one-size-fits-all; they depend on a region's soils, terrain, microclimate, availability of water, crops grown, and other factors. Technical assistance is often required to translate research findings into in-the-ground application.5
Adopting new practices can be costly to farmers, especially in the short run. Income may fall off during a transition to different crops or new farming techniques. Many farmers don't have capital to tide them over while making changes or adapting to different markets. In the face of costs or perceived risks, financial incentives for farmers and ranchers can be critical; University of California, Davis researchers concluded that California producers will adopt practices to mitigate climate change if given realistic assistance.6
Since 2009, the California Climate and Agriculture Network (CalCAN), a coalition of sustainable agriculture organizations and farmers, has worked to address state agriculture policy from a climate-protection perspective. "We strive to be a voice for the positive contribution agriculture can make on climate protection and adaptation," says the organization, "and to assemble diverse expertise and stakeholders to advance specific state policy proposals."7 As early as 2010, CalCAN began sponsoring legislation to direct cap-and-trade funds to agricultural practices that reduce greenhouse gas emissions and support climate change adaptation. (Under California's cap-and-trade legislation, the state auctions allowances that permit companies to emit greenhouse gases above certain limits that are lowered each year. The number of allowances is also periodically reduced. Revenues from the auctions support programs that reduce greenhouse gas emissions in the state.)8
In his 2015 State of the State address, Governor Jerry Brown included soil carbon sequestration in the state's plan for reaching its ambitious greenhouse gas reduction target, and in his budget message announced his administration's intent to establish what became known as the Healthy Soils Initiative:
As the leading agricultural state in the nation, it is important for California's soils to be sustainable and resilient to climate change. Increased carbon in soils is responsible for numerous benefits including increased water holding capacity, increased crop yields and decreased sediment erosion. In the upcoming year, the Administration will work on several new initiatives to increase carbon in soil and establish long-term goals for carbon levels in all California's agricultural soils. CDFA [California Department of Food and Agriculture] will coordinate this initiative under its existing authority provided by the Environmental Farming Act.9
Though the attention to climate change is clear in Brown's message, the focus on healthy soils is significant. Some people, including legislators and farmers, have remained unconvinced about the reality of climate change and are wary of government intervention. The importance of healthy soils, on the other hand, is hard to question. As the governor notes, increasing carbon content in soils has many benefits regardless of what one might feel about climate change. At the same time, soil health is one element in a constellation of related factors, as described by the author and farmer Wendell Berry: "…the health of soil, of plants and animals, of farm and farmer, of farm family and farm community, all involved in the same interested, interlocking pattern—or pattern of patterns."10
After several attempts and much education of the legislature by CalCAN and its partners, in 2016 the legislature approved first-time funding for the Healthy Soils Initiative. Legislation sponsored by CalCAN defined healthy soils as "soils that enhance their continuing capacity to function as a biological system, increase soil organic matter, improve soil structure and water-and-nutrient-holding capacity, and result in net long-term greenhouse gas benefits."11 It directed CDFA to use cap-and-trade funds to provide incentives to farmers and grants for on-farm demonstration projects. The legislation also increased the makeup of the Environmental Farming Science Advisory Panel that advises the CDFA, adding members with expertise in climate change and agricultural science and practices and farmer members, including a certified organic producer.
CalCAN views initial funding for the Healthy Soils Initiative as the first step in launching an effective and innovative program. Details about what farming practices will be eligible, how the benefits will be quantified, and what will be required of farmers in applying for grants are all important to the eventual success of the program and to its ongoing funding. Stakeholder input is important to inform the government agencies charged with implementing the program. CalCAN and a coalition of conservation and agriculture organizations, farmers, and agriculture professionals continue to offer recommendations to CDFA and other state agencies to strengthen and improve the Healthy Soils program and other "climate-smart agriculture" programs.12 A few of their guiding principles suggest the organizations' priorities and their sense of the design elements needed to make Healthy Soils an impactful program that not only reduces net greenhouse gas emissions but also improves air and water quality, public health, and agricultural resilience and is accessible by a wide range and scale of California producers:13
"Support farm and ranch management practices that can increase on-farm carbon sequestration and reduce GHG emissions through a combination of practices, taking a whole farm systems approach aimed at optimizing the full range of climate change solutions of the farm or ranch."
Systems Perspective: This recommendation builds on a systems insight articulated elsewhere by CalCAN: "As California considers GHG emissions issues in agriculture, it is important to take a whole-farm system approach rather than a practice-by-practice approach. Altering one agricultural practice to reduce GHG emissions may lead to the unintended consequence of increasing GHG emissions elsewhere in the farm system. Considering agricultural practices as integrated parts of the whole farming system will provide a more complete picture of the opportunities to reduce GHG emissions and provide multiple benefits.14
For these reasons, it is critical to look at all the practices of a farm or ranch together—water and energy efficiency, soil management techniques to promote carbon sequestration, organic farming where appropriate, rangeland management and livestock production if relevant, protection of farm and rangeland from urban development and more intensive forms of agriculture, and so on. At some points, there may need to be trade-offs between strategies, looking to optimize the whole system rather than maximize parts of it.
"Ensure that a range of operation sizes and types…are able to access the program, reflecting California agriculture's great diversity."
This recommendation reflects the living systems principle that diversity assures resilience. Along with other of the recommendations, it's also a reminder that what is at stake is not just the amount of carbon in the soil, but also the health of the community of farmers who care for that soil.
"Integrate input from local growers to inform implementation of the statewide program."
"When a competitive selection process is used, ensure that it is not onerous and does not put undue burden on producers."
"Provide resources for technical service providers, nonprofits, agricultural trade groups, and others to support growers with application assistance, project planning, designing, implementing, and monitoring. This type of technical assistance and outreach will be critical to reach small and mid-scale producers and beginning farmers with limited resources."
One role that government can play is to identify, generate, organize, and disseminate information, resources, and technical assistance that individual farmers may not have the time or specialized expertise to locate and take advantage of.
The initial funding for the Healthy Soils Initiative was modest: $7.5 million in fiscal year 2016–17. (The governor had proposed $20 million.) The 2017–2018 budget did not include cap-and-trade funding for Healthy Soils or the State Water Efficiency and Enhancement Program, though the programs are slated to receive $10 million and $20 million respectively if a bond measure endorsed by the legislature passes in 2018. CalCAN and its allies intend to work to restore ongoing funding for the programs in future budgets. In the meantime, the principle has been affirmed, and it's hoped that successful experiences by early adopters will inspire others to take up climate-friendly practices.
The history of the initiative shows that working through public policy can be a slow and often frustrating process requiring compromise and persistence, but the payoff can be substantial. The importance at this time of state and local initiatives in climate change mitigation continues to grow, especially in the US, and California's leadership in supporting unique and powerful agricultural solutions has informed and inspired efforts around the world.