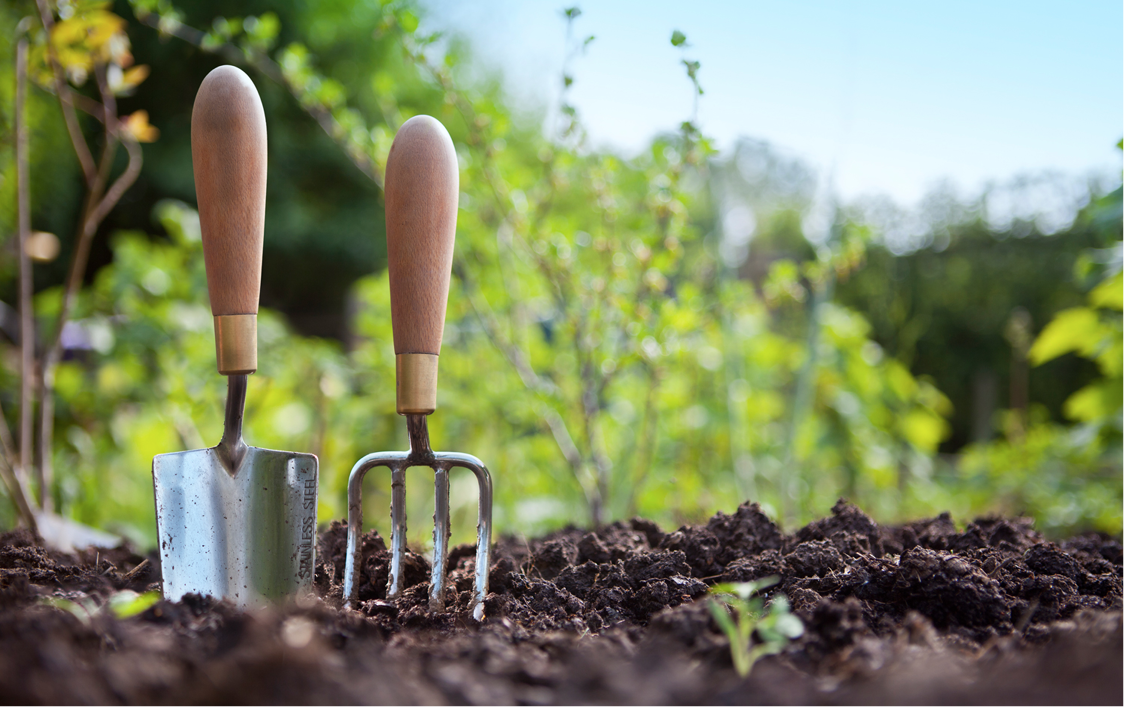 14. What Can We Do?
As they become aware of links between food systems and climate change, students naturally want to know what they can do.
Systems Perspective: Now more than ever we need citizens who understand the science of climate change; the workings of the food system; the links between them; and the implications for personal and institutional choices, collective action, and public policy. It is also important that students be aware that responses to climate change and its impacts are possible, and that there are people and organizations at work on those responses.
Some suggestions:
Dig in: Get some dirt under your fingernails. One of the ways to understand the underappreciated wonder that is soil is to spend time with it—in backyards, school gardens, community gardens, and farms. Feel it. Look at it under a magnifying glass, and discover the life in it. Compare soils from various settings for appearance, water retention, organic matter, mineral components, and other properties. See the USDA Natural Resource Conservation Service's "Soil Health for Educators" web page for lessons, activities, and suggestions for assembling soil testing kits.1 The Soil Carbon Coalition has designed lessons and activities "to engage students, farmers, policy makers and others in seeing new possibilities related to soil health, water and carbon cycles, and systems-based land management."2
Become involved in your school's meal program. Schools teach not just by their words and formal lessons, but by their decisions and actions. The food service presents schools and districts with opportunities to make a difference through their purchasing policies; by how often they choose to serve meat or make nonmeat options available; by their support of local farmers, ranchers, and coalitions who practice climate-friendly agriculture; and by participation in building sustainable local food systems. Especially when they work together, schools—and other large institutions such as hospitals, prisons, and the military—have enough buying power to reshape the practices of growers and food distributors.
Involvement in food service change can begin simply with a discussion with the district's nutrition services director, an offer to volunteer, or a class project. In Oakland, California, a fifth-grade class helped launch a major reform effort after their research showed that the district was serving asparagus that had traveled 17,000 miles, some by air, to get to Oakland, although asparagus is grown less than 100 miles away. That led to a pilot program, California Thursdays®, to increase local and regional purchasing. California Thursdays is now a network of districts, working in collaboration with the Center for Ecoliteracy, that serves about a third of California's school meals. It has inspired similar programs in Minnesota and New York. Because of the network's purchasing power, distributors are now contracting with farmers and developing "California-grown" product lines.3
Help reduce food waste. One of the most direct ways that schools can respond to climate change is to reduce waste in their meal programs. All the ways that the food system contributes to climate change are even more a problem when food that is grown is not eaten, and doubly so when it ends up in landfills, generating methane. The USDA reports that the volume of food waste by young people is similar to that of the rest of the population (about a third of the food that is grown is wasted at the retail and consumer levels).4
Among strategies for reducing food waste that have proved to be effective:
Ensure that students have enough time to eat. Extending lunch periods from 20 to 30 minutes can reduce plate waste by nearly a third, according to the USDA.5
Schedule recess before lunch. Serving meals when students are hungrier and have less incentive to rush through lunch in order to play can reduce plate waste by 30 percent.6
Offer menu items that students want to eat. Get students involved in taste-testing new items. The cookbook and professional development guide Cooking with California Food in K–12 Schools offers a menu-planning strategy based on dishes students (not just in California) know and love.7
Donate unused food. Food that might otherwise end up in a landfill can be a boon to organizations serving hungry people. For example, Food Bus, a Virginia-based nonprofit, provides consultation to schools, districts, and systems to bridge the gap between elementary schools and food pantries.8 The Los Angeles Unified School District, the country's second largest, has developed an extensive set of guidelines for donating unused school food to community organizations that serve families and children.9
Learn about and support organizations devoted to some aspect of the issue. You don't have to do it alone. Many organizations are already addressing food systems and climate change from a variety of perspectives. A good research project for students would be to discover whether there are local organizations working on resilient, sustainable food systems in their communities, and how students might participate in their efforts.
At levels from the local to the international, the nonprofit Food Tank is creating a network of connections and information to pursue solutions and environmentally sustainable ways of alleviating hunger, obesity, and poverty. In 2015, Food Tank published a list of "21 Food and Agricultural Organizations Fighting Climate Change," which included the Ag Innovations Network; the Center for Food Safety; Climate Change, Agriculture, and Food Security; Ecoagriculture Partners; La Via Campesina; and 16 others.10 Many of them invite support or participation in their campaigns.